5 Ways to Deliver Amazing Customer Service
by Seaway Printing | Feb 16, 2023 | 0 Comments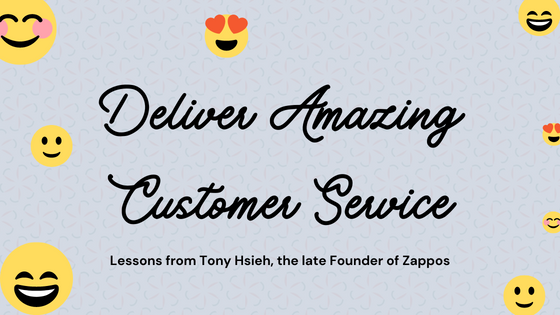 The late Tony Hsieh, the founder of Zappos.com, wrote the book "Delivering Happiness" to share his experiences and insights on creating a successful business and happy life. Throughout his career, Tony was intentional about making customer service the number one priority for everyone in the company. It was this relentless pursuit of customer service that enabled him to build companies with raving fans.
At Seaway, customer service is a crucial component of our success, and by prioritizing it, we're able to improve our bottom line and build strong relationships with our customers.
For this issue of Pressing Matters, we thought we'd share 5 key takeaways from the book that provide experienced insight into how to deliver amazing customer service:
Prioritize customer satisfaction: The customer should always be at the center of your business strategy. Ensure that your employees are well-trained and have the necessary resources to provide world-class customer service. Encourage your employees to go above and beyond to meet the needs of your customers.


Empower every member of your team: Give your team the power to make decisions that will benefit your customers. By doing so, you show your employees that you trust them and that they are valued members of your team. This can also help to improve employee morale and create a more positive work environment.


Focus on building relationships: Instead of simply providing a product or service, focus on building long-term relationships with your customers. Encourage your employees to engage with customers, ask questions, and get to know their needs. This helps to create a more personal connection and build customer loyalty. One of the greatest rewards we've had as a company over the years is the incredible relationships we've built with our customers.


Use technology to enhance the customer experience: Technology can be a valuable tool for companies willing to learn, invest and implement software, equipment, and other technologies that help you improve quality, shorten turn-times, and communicate with customers.


Continuously improve: Customer service is an ongoing process, and it's important to continuously evaluate and improve your approach. Listen to customer feedback, assess what works and what doesn't, and continue to make the kind of changes that elevate your customers' experience.
Delivering amazing customer service is a crucial aspect of business success. By prioritizing customer satisfaction, empowering employees, building relationships, using technology, and continuously improving, companies can create a positive customer experience and build long-lasting relationships with their customers.
Connect With Us
Seaway
1609 Western Avenue
Green Bay, WI 54303
info@seawayprinting.com
Toll Free: 800.622.3255
Fax: 920.468.0443
Local: 920.468.1500