How Girl Camper Magazine Started a Movement of Community, Encouragement, and Legacy for Women
by Steve Gumm | Feb 11, 2022 | General | 0 Comments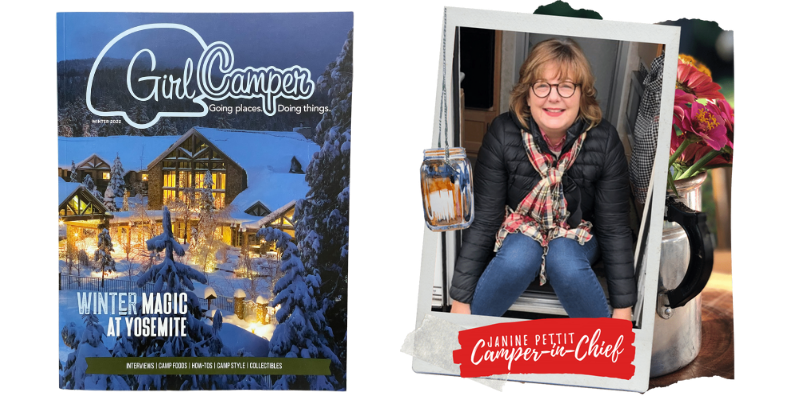 When you read the bottom portion of an engrossing magazine and flip the page to the next, what's the feeling you get?
The feeling of satisfaction and emotional connection to your book is something we all crave and occasionally miss. We forget how tremendous it is to close a chapter and head into a new one with fresh perspectives. It's an experience you'll never get in digital form.
A luminary who recognizes the importance of print media is Janine Pettit. Pettit is the creator of Girl Camper Magazine, which restores the same feeling of satisfaction and invokes a paradigm shift.
We talked to Pettit to understand how the Girl Camper Magazine tells a new story of girl camping- a previously unexplored niche. Let's get into how the magazine built a community of over 210,000 women in the Facebook group.
Watch the full interview with Janine. Additional clips from the interview can be found at the bottom of this article!
Who are Girl Campers?

Girl Campers is a group of like-minded friends who aim to experience a redesigned camping experience focusing on a new women-only niche. Girl Campers organize camping events across America for women looking to get out of their comfort zone and experience camping as a hobby or team-building activity.
Girl camper's slogan is "No Wrong Way To Camp Like A Girl." The phrase has enabled Janine Pettit create a camping experience that enjoins hammock hangers, RVers, cabin renters, tent totters, and all campers around the campfire.
Some cool stuff girl campers engage in are:
Bonfire storytelling

RV repairs

DIY crafts

Cinema nights

Kayaking

Snowboarding

Spelunking
Each chapter sees an influx of women who want to explore the outdoors without family and workplace restrictions. The experience is new every time and provides the much-needed rejuvenation.
But how Janine Pettit and her friends managed to build a movement of community, encouragement, and legacy for women defies the otherwise conventional standards.
Girl Camper Magazine Background


Janine is an avid lover of magazines, particularly Cottage Style magazines. Speaking to us, she shared her love for magazines and attested to having a truckload of magazines stacked in her office.
In the many interactions with magazines, she encountered no camping magazines. Pettit made a bold move to create the Girl Camper Magazine to fill the blank in camping magazines. "I created the magazine I wanted to buy," Janine Pettit stated in our interview.
The challenge was translating her ideas into a tangible magazine. Pettit approached Alana Hogg, who had built her own company and had success at top lifestyle magazines. To Janine's surprise, Alana took it personally to develop the magazine. She worked on the first three issues and nailed them every time.
This particular issue is a tribute to Allan Hogg- the founding art director without whose efforts the magazine wouldn't be what it is today.
Pettit's collaborative efforts with Seaways Printing enabled her to turn her vision into a reality. Seaways combined Janine's efforts in women empowerment through camping, added love and care, and produced a magazine that, in its right, changes your perspective on matters of women-only camping.
Bringing Girl Campers Together

Girl Camper Magazine brings together success stories of Shari Sullivan, Michelle Almodovar, Sharon Cormican, and other women who have created their hobbies in camping and positively influenced other women to try camping which is largely male-dominated.
The magazine unites local girl campers into a national movement. From New Jersey, Delaware to just about any state in America, you can find your local chapter and camp in your local neck of the woods.
Through the magazine, Janine has built in what she calls the "encouragement rather than empowerment" community. As more girls read the magazine, they realize life outside the home. They can explore the outdoors and have as much fun as men. Women for a long time haven't enjoyed the same freedom as men since they have to shelve their camping cravings to tend to family and work duties. The magazine's success stories tell of women who balance camping and have flourished in work and family too.
Girl Camper Magazine is building a community of encouragement for many women. After reading the magazine, more women forming their local chapters is a win in extensive measures. "Win is building community, and we need more of that," Janine Pettit.
Outlook

Thanks to Seaway's state-of-the-art equipment and human-centric approach, the magazine represents the first step for Girl Campers but a giant leap for women-kind. You can get the magazine and have the same swooning feeling every reader gets when they receive it. Girl Camper Magazine is all about going places and telling stories. Stories of community, encouragement, and legacy for women.
Fresh Insights Delivered to Your Inbox Monthly!
Every month we deliver some of the most creative and effective ideas, case studies, tutorials & interviews to help take you and your business to the next level. Plus it's FREE!
TESTIMONIALS
What Our Clients Are Saying
"Seaway Printing executed a difficult job for us with seeming ease. We required a fast turn-around on a high-end oversized magazine, with expectations of perfect trim and exceptional printing. They completed the job with quickness, accuracy and professionalism. I was happy to have no calls with excuses of broken down this or that, or a backed-up print schedule delaying my job. Perfect color, perfect trim, with no "issues" and they turned in the best price bid in the entire state on the project."
Magazine Publisher – Appleton, WI
We received the catalogs and they look great. The combination of the 175-line screen and the bright white silk paper really make the colors and images pop. So thanks for giving me a better product at a reasonable price. The AQ coating really gives the cover a nice silk look and does not leave smudges or finger prints. To get a sheet fed, high quality printed catalog at the same price as what a web printer would do is hard to find, so thank you. I can't say enough about how the press operator did an excellent job matching the color make-ready sample catalog I sent to them; you can't tell them apart.
Print Distributor – Chicago, IL
Based upon the status reports received from Seaway, I'm happy to report that your record for the months of January through March was Superior. Out of 13 receipts possible, we received 13 on Fridays as requested. Your continued effort and consistency in faxing these in a timely manner is much appreciated. It's a reflection of a positive relationship.
Christian Publisher – Downers Grove, IL

I just wanted to send a quick email to tell you I can't be happier working with your company. My CSR has been great … You have been a great source for me on a lot of new and repeat orders. Your pricing has been very fair, and your service is great. Your press room does a great job and you should pass it on to them. We are growing at this end and I would like to think that in the coming year, you will be getting a lot of my larger work that I can't do on my digital. You have put me in the ball game on some of my quotes and its due to your pricing that I am getting this work. I look forward to a new and solid relationship with your company and I hope you feel the same. Thank you again for all your help with pricing and once again a big thanks goes out to our CSR for the great service they and your company is giving us.
Print Distributor – Elk Grove Village, IL

We received our 2 samples today of the books and they look ABSOLUTELY TERRIFIC. We are really so pleased with the final results. The printing looks great, the color images are just stunning, and the tabs look really good too. Thanks for watching over this book so carefully. I so appreciate that fully impositioned 2nd proof that we received from you– that was a great idea and really helped us. My client has seen the book and is really pleased with the results as well. I've never seen her so happy!
Thanks for contributing to the success of this book, which is so important on an institutional level for us all here. Please let everyone involved on your end know how happy we are here.
University Publisher – Madison, WI

I just wanted to thank you again and share with you that we have a HAPPY CUSTOMER thanks to all your hard work! There should be plenty more where this came from, and please thank your team for us!
Print Distributor – Chicago, IL

I am the production manager and print buyer for a music publishing company. Seaway printing has been my go-to printer for more than a decade. They can handle a wide variety of printing whether traditional or digital, from greeting cards to perfect bound books; from catalogs and promotional flyers to CD slip cases. I know that when I call Seaway my job is in good hands and will be beautifully printed, on time and the price will be fair and reasonable. Seaway makes my job easier.
Music Publisher – Franklin Park, IL
The catalogs were just delivered. They look absolutely fantastic! The color looks great. The printing is crisp. The alignment of graphics from page to page is spot on. Great work folks. Thank you for your efforts.
Print Distributor – Alpharetta, GA
I have worked with Seaway Printing for more than thirteen years. During that time, they have proven to be a valuable asset to my company. I can always count on them for top quality printing, and to advise me in the best way to solve any problem that might arise. Seaway has been my main printer for all of our hymnal and worship aid music accompaniments.
Seaway's quotes for projects are excellent. There are never any surprises. In fact, they often make suggestions as to how a project can be set up better so as to be more efficient and save money.
Seaway's knowledge, experience and organizational skills have been extremely helpful over the years, but beyond that, my customer service rep's calm, positive, can-do attitude has been of personal comfort during deadline crises.
I would recommend Seaway Printing without reservation or hesitation.
Christian Publisher – Franklin Park, IL
I just had a children's book printed by Seaway. I found it to be a very professional experience. The quality of the book is wonderful and the quality of the personnel to deal with was equally wonderful.
Children's Book Publisher – Superior, WI
Connect With Us
Seaway
1609 Western Avenue
Green Bay, WI 54303
info@seawayprinting.com
Toll Free: 800.622.3255
Fax: 920.468.0443
Local: 920.468.1500